LEROY & THE ROCKETS: Rockabilly Rollercoaster CD
Kuvaus
LEROY & THE ROCKETS: Rockabilly Rollercoaster CD
(2012/PRESTIGE) 20 tracks (61:37) outstanding new album from Kent's own Leroy Bradley and his superb band. Take an amazing one hour rollercoaster ride, through a great produced mix of Rockabilly, Rock & Roll and Rockin' Blues. Mostly originals swith a few great covers thrown in.*****/Erstklassig produzierertes, abwechslungsreiches Rock & Roll Album der besonderen Art. Leroy's Stimme (sowie einige Titel) erinnern an den 60s Hollywood Elvis, überrhaupt ist die Bandreite des Repertoires unglaublich. Ein Hammer Album!sk
Tracks:
01 Challenge Me
02 Dianne And The Gypsy Queen
03 The Old Man Is Down The Road
04 Swordfish
05 Memphis, Tennessee
06 Goin' To Chicago
07 Remember Me
08 Summertime Blues
09 It's All About Me
10 That's Life
11 Livin' This Way
12 Dangerous Man
13 Shaking All Over
14 Witchcraft
15 Love Roulette
16 Strange Business
17 When You Were Mine
18 Zippin' Pippin
19 Bad Moon Rising
20 Mars Attacks (Venus)
Leroy and the Rockets in Albums/Contemporary artists/IJKL/Reviews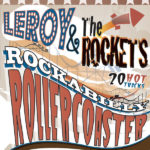 Leroy and the Rockets - Rockabilly Rollercoaster
Prestige Elite Records CDSGP 1313 [2012]
Rockin' Rocket 88 has lived, here comes Leroy & the Rockets. But if the name changed, the line-up and the quality remain the same. There's just a slight evolution in the sound, something like a more modern approach. Of course this is still roots oriented music, mostly rockabilly but with elements of blues (Goin' To Chicago), hillbilly (Memphis Tennessee and Summertime Blues with a fiddle) and obvious references to the pioneers like Elvis (Dianne and the Gypsy Queen) or Johnny Cash (Remember Me). But they really aim to create a brand of music for the 21st century. To achieve their vision they asked Stevie Paul to produce the album. Paul is as far as you can imagine from the Rockabilly world having worked with Rod Stewart, Mary J Blige, Toni Braxton, Edwin Starr, Mike & the Mechanics to name but a few. His fresh approach mixed with the band's background results in a brand new sound: something like a mix between the Blue Cats from the Tunnel era and Chris Isaak's rockingest material.
With artists as Kitty Daisy and Lewis or Imelda May touching a large audience, it would be justice that a band which plays this music for more than 25 years, even if it was under another name, obtains a little recognition.
Fred "Virgil" Turgis
----------------------------------------------------
Style : Rockabilly
Rate (1-5) :


Uk band, Leroy and The Rockets delivers a 20-track album full of old fashioned rock and roll, country and rockabilly! Originally the band was formed back in the eighties under the name Rocket 88, but then came a letter from a group of solicitors asking to drop that name since some original members of the Rolling Stones already used it back in the seventies! So Rockin' Rocket 88 became the new name! However so many years later and with a couple of line-up changes the band decided once more to have their name changed' Leroy and the Rockets is now their new brand, but the music stayed the same!

Rockabilly, rock n'roll and rockin' blues, country influenced tunes and so much more! From the CCR back catalogue over chuck Berry towards Eddie Cochran and Johnnie Kid their cover versions are well chosen and give away their rich interest in musical taste! But in all honesty it are the self penned tunes that are the most impressing ones. Check out the stubborn and unique "Swordfish", the super sweet rocking "Goin' to Chicago" or the red and hot Livin' this way! Leroy and the rockets might be a new name, their style & music gives away they have been around for a while and earned their kudos already over and over! A great selection from a great band!

Mr. Blue Boogie 
 
Osta heti
Lisätiedot
| | |
| --- | --- |
| Hinta | 7.9 € |
| Sijainti | 33310 TAMPERE |
| Kunto | Hyvä |
| Osasto | Ulkomainen rock |
| Lisätty | 20.5.2019 20:04 |
| Sulkeutuu | 23.5.2019 20:04 |
| Kohdenumero | 497753640 |
Maksaminen ja toimitus
| | |
| --- | --- |
| Maksutapa | Tilisiirto, käteinen |
| Toimitustapa | Nouto, toimitus |
| Toimituskulut | 2,20 € |
Hintaehdotukset
Osta heti tai ehdota myyjälle hintaa.